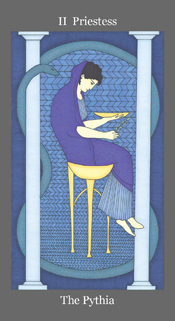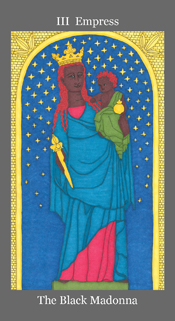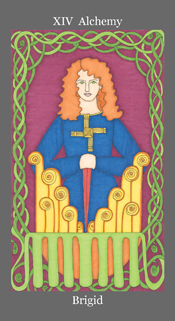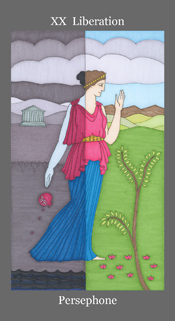 I can generally read any tarot deck "right out of the box," in part because most tarot decks published today are either "clones" or heavily influenced by either the Rider-Waite-Smith (RWS) Tarot, the Thoth Tarot, and/or the Marseilles Tarot. It helps to have worked extensively with all three of the above decks, as well as many others.

Decks that involve a heavy learning curve tend to be so different from tarot that I don't want to bother with them. Frankly, I'm a sloth, but my (mostly legitimate) excuse is that the difference means that it's not really a tarot deck, but an oracle, and I don't need to learn an entire new system when I know that the tarot structure is the one that turns me on the most. (It's kind of like being a one-man woman, except I have almost as many decks as Wilt Chamberlain allegedly had women.)

While I (still) have good intentions about the Ironwing Tarot, I make few exceptions to my rule of rejecting tarots that involve too much effort for what I believe is not worth the intellectual or spiritual payoff. Generally speaking, people who offer a "new universal vision" (or, Goddess forfend, "the real tarot") have astigmatism at best when it comes to absorbing the old vision (or the old, false tarot). Hell, I'll say it. They're traveling blind, and I don't want them guiding me.

Rachel Pollack's Shining Woman/Tribe is an obvious exception--she's Rachel Fucking Pollack. Enough said.

The only other exclusion to the rule is any deck by Ellen Lorenzi-Prince. In my review of her first deck, I described its creation thusly: "It's as if the Crone, through Ellen, consumed the Golden Dawn structure, spit out what She didn't like, and digested and synthesized the rest, with the brutal effectiveness of nature." The artwork was somewhat primitive and definitely "not pretty," but it was perfect for its theme.

In some ways a precursor to the Dark Goddess Tarot, Lorenzi-Prince's next deck, Pandora's Tarot, is a Majors-Only set "inspired by ancient Greek art, religion and myth." Twenty-two Greek Goddesses are assigned to the 22 archetypes. Interestingly, the only "re-used" goddess is Persephone for Judgment (renamed Liberation in the Dark Goddess Tarot), and of course The Pythia (the High Priestess in the Dark Goddess Tarot) is associated with the Snake Goddess, card II in Pandora's Tarot. Lorenzi-Prince used the original Greek art and sculptures as her models, and her artwork became more stylized and elegant as a result. It is in this sense that Pandora's Tarot is a precursor for the Dark Goddess Tarot, Ellen's most refined and beautiful deck yet.

As yet unpublished, the fecund Lorenzi-Prince created the Minoan Tarot, based (DUH!) on the matriarchal Minoan culture. I feel like this deck would provide balm to a wounded spirit, if the wounded spirit had access to it. (Yes, I'm hinting. Broadly.)

If the Minoan Tarot provides balm to the wounded spirit, the Dark Goddess Tarot plays the role of Cher in Moonstruck, delivering a slap and the demand to "Snap out of it." Even though many of the goddesses are not considered traditionally dark (Artemis, the Black Madonna, Brigid, Aphrodite, Vesta, Gaia, and Athena, among others), they all crackle with power--not just theirs, but your potential power, as well. This is not the kind of Goddess Tarot where the Fairy Godmother riding on a unicorn makes an appearance--unless she's wearing black and carrying a skeleton baby. And any magic wands are tree roots that might smack you in the face if you try to avoid reality.

According to the blurb on the box, the deck "features 78 powerful female figures of magic and mystery, sex and death, sovereignty and shadow." These goddesses are from every culture you've heard of and some you haven't.

Which leads to the shadow side of this deck (how synchronous)--the part about effort and research and energy. I can read this deck without knowing the stories of particular goddesses, though if I know them or can quickly read about them, my readings are a whole lot more powerful, which is the whole point of using this deck. But I have a reasonable amount of knowledge about the myriad forms the goddess takes and an excellent grounding in tarot. I used the deck for five sample readings and found I was able to give answers easily. Even if I didn't recognize the specific goddess from Eve (a little goddess humor), I could connect the image to my mental memory of the card in other decks. But when I looked up the designated goddess, my readings were fuller and better.

A friend of mine who is less goddess-oriented and has taken a number of tarot classes adamantly insisted that it is not an easy deck to read. She is attracted to the deck just the same, but plans to use it solely for herself when she has time for research. Happily, Lorenzi-Prince is writing a book to go with the deck, which will not only provide background on all of the goddesses but also the connections to the tarot card with which they are associated. The voice of the Goddess emanates in Ellen's writing and is equally profound and...yes, it's the word of the day: powerful. On that great day of publication, there will be rejoicing in Tarotlandia.

Until then we have the infamous Little White Book (LWB), but like so much about this deck, it is also unique. How often do LWBs contain color images of some cards? And for card interpretations, there is a descriptive title for the Goddess (such as "Anatolian Mountain Mother" for Cybele, the Hierophant) and a short, meaningful phrase ("Transcend boundaries through community"). No keywords. You are expected to actually divine! Imagine that!

Also included is pithy and wise advice on "Working with the Goddesses." Two spreads are also provided; one is an everyday work-a-day type and the other is "Goddess Be With You," a custom five card spread "to orient to one's true self." The first spread is excellent for what it is--I gave several people readings with it and easily divined specific answers for their questions. But the second is truly powerful, because you see the external Divine, the Divine in the face of your friends, family, and lovers, and--best of all--the Divine within.

Speaking of unique, this deck was published by ArnellArt.com--well-respected tarot creator and community member, Arnell Ando. The quality of the production is superb in all aspects: the sturdy box, the superior card texture, the colorful LWB. My only hope is that she publishes more, equally fantastic decks.

Because it is my opinion that this is Ellen Lorenzi-Prince's finest tarot deck yet--and that is saying something. Every bit of energy you put into this deck will be repaid in such generous measure that you will give willingly. With or without the slap.
78 cards - Yes

Reversible backs - Almost
Strength VIII, Justice XI - Yes
Color Images - Yes
Standard (RWS) Titles of the Major Arcana - Yes (w/noted exceptions)
Traditional (RWS) Suits - No
Traditional Elemental Associations - Yes
Standard dimensions (approx. 4 3/4" x 2 3/4") - No (a bit larger)



The Major Arcana that have been renamed:
The Emperor - Sovereignty
Temperance - Alchemy
The Devil - Corruption
The Tower - Destruction
Judgement - Liberation



The suits are the elements: fire, water, air, and earth.
The court cards are: Amazon, Siren, Witch, and Hag

Review by Diane Wilkes of the Legendary Site, Tarot Passages