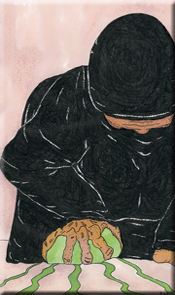 Tarot of the Crone (3rd Ed.) Published April 2017
Deck & Book Set: $40. + P&H
Read Reviews Here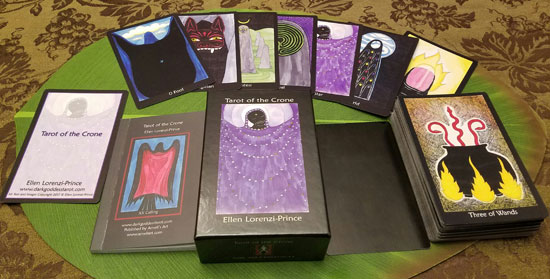 Specs: 78 Cards, Sized: 3" x 4.5", (7.6 by 11.4 cm) w/ Round Corners, Black Borders
Suits: Wands, Cups, Swords & Disks
Majors: Most w/ Familiar Titles (*Note: V-Tradition, VI-Crossroads, XII-Sacrifice, XX-Calling)
VIII-Justice, XI-Strength
Court Cards Renamed: Beast, Witch, Grandmother & Shadow
Backs: Black, Reversible
Soft Cover Book: 86 Pages w/ Descriptions, Meanings, & Small Color Images of All Cards
Tarot of the Crone Comes in Sturdy, Custom, 2-Part Box: $40. + P&H

Choose from Tarot of the Crone Drop-Down Window: One or Two Decks (Save Postage on Double Orders) U.S., Canada or Overseas

Save Half-Price on Priority Mail When Combining Tarot of the Crone & Dark Goddess!

E-book: Tarot of the Crone Playbook Pdf: $8.00
126 Pages, Large Color Images of All 78 Cards, (Includes Descriptions, Tarot Spreads &/or Exercises for Each Card)
---
Dark Goddess Tarot: $36.00 + P&H
Re-published: April 2017
Read Reviews Here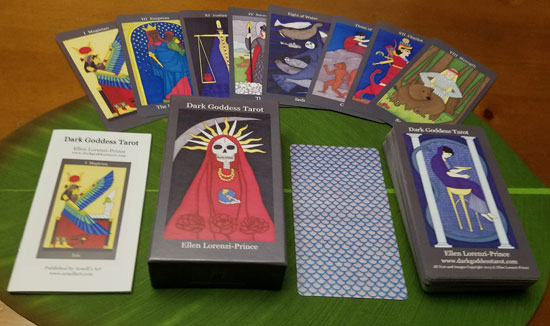 Specs: 78 Cards - Size: 3" x 5.5 in (7.6 x 14 cm) with Rounded Corners, Grey Borders
Majors: Include Goddess Names & Mostly Familiar Titles (*Note: IV Sovereignty, XIV-Alchemy, XV-Corruption, XVI-Destruction, XX-Liberation)
VIII-Strength, XI-Justice
Suits: Fire (Wands), Water (Cups), Air (Swords) & Earth (Disks)
Court Cards Renamed: Amazon, Siren, Witch & Hag
Backs: Scale Design, Not Reversible
LWB: 26 pages, w/ Description, Goddess Orientation & Poetic Reflections
Dark Goddess Tarot Comes in Sturdy, Custom, 2-Part Box: $36.00 + P&H

Please choose from Dark Goddess Drop-Down Window: One or Two Decks (Save Postage on Double Orders) for U.S., Canada or Overseas: (New Combo DGT & ToC Order Options Will be Added Later This Week!):



Save Half-Price on Priority Mail When Combining Dark Goddess & Tarot of the Crone!

Dark Goddess eBook: 168 Pages, Includes Large, Color Images of All 78 Cards: $8.00
Available as: ePub, Mobi or Pdf. Choose from Drop Down Window:

---
Minoan Tarot Deck & Book Set: $40. + P&H
Read Reviews Here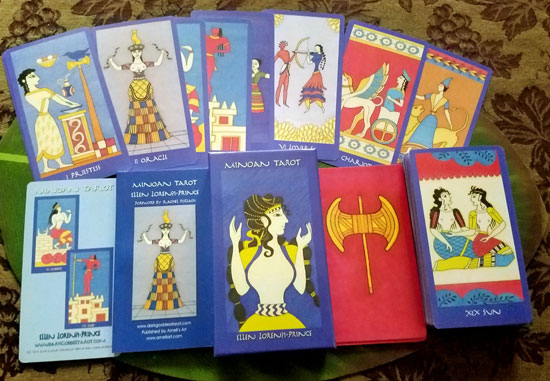 Specs: 78 cards. Size: 3" x 5.5 in (7.6 x 14 cm) with Rounded Corners, Blue Borders
Majors: Most w/New Yet Recognizable Titles (*Note: O-Lily Prince, II-Oracle, III-Goddess, IV-God, V-Singer, IX-Visionary, X-Wheel of Life, XI-Balance, XII-Hanging Woman, XIII-Ancestor, XIV-Flow, XV-Ecstasy, XVI-Shipwreck, XX-Transcendence and XXI-World Tree)
VIII-Strength, XI-Balance (Justice)
Suits: Earth (Disks), Sea (Cups), Sky (Swords) & Art (Wands)
Court Cards Renamed: Worker, Priestess, Master, and Mistress
Backs: Minoan Labrys (Double-Headed Ceremonial Tool), Not Reversible
Soft Cover Booklet Included: 92 pages, w/ Meanings, Descriptions, + Small Color Images of All Cards
Minoan Tarot Comes in a Sturdy, Custom, 2-Part Box: $40 + P&H

Please choose from Minoan Drop-Down Window: One or Two Decks (Save Postage on Double Orders) U.S., Canada or Overseas:


---


Return Policy:
For US Customers & internationals who order insurance: If package appears damaged upon delivery, please take photo prior to opening, as well as picture of damaged contents. This will help us receive insurance compensation to replace it for you. Thanks.

Otherwise, as a small, independent publisher we unfortunately cannot guarantee every deck will be as perfect as we would like. Please be aware that there may be inconsistencies in color or in trimming of cards. We are sad when anyone is unhappy with a deck for any reason, but cannot cover all costs for every reason and continue to stay in business and bring these special decks to you.

If you are unhappy with your deck, you may return it. At your request, we will either refund money or replace your deck, but we must first receive the defective product. We will not ask you to pay for reshipping a deck to you, although this is a loss for us. However, we cannot pay your cost in returning the deck to us and incur that loss as well.

The only exceptions to this return policy are egregious damages. For example, if the cards arrive ripped, creased, or printed askew within their shrink wrap. In such cases, we can reimburse you for return postage costs, upon our receipt of the damaged deck.

Regarding international shipping:
Dear international customers,
Deliveries outside U.S. are occasionally subject to local customs or possible import duties, payable by the recipient of the order to the local customs authority. Any such fees are rare but also out of our control here in the U.S. Will e-mail you a postal confirmation number however some countries do not use the same tracking system. It typically takes 7 - 10 business days, depending on international customs). International phone number if you want to track a slow package: 1-800-222-1811. Thanks for your understanding and support.